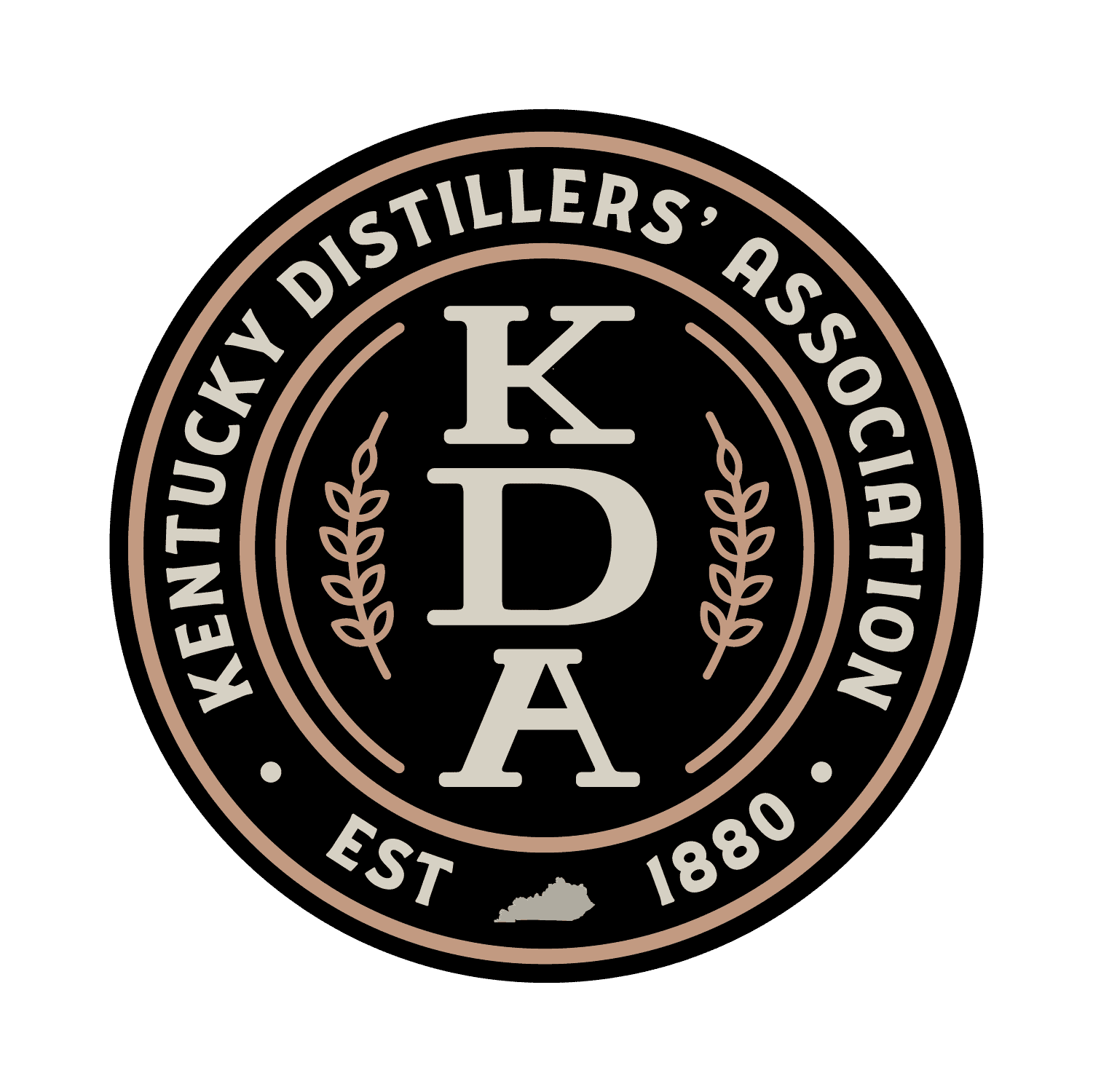 Kentucky Distillers Set Records For Bourbon Barrel Inventories, New Fills – And Punishing Production Taxes
For Immediate Release – September 27, 2022
FRANKFORT, Ky. – The number of Bourbon barrels in Kentucky reached a record 11.4 million in January, as the state's signature industry marked its fourth consecutive year filling more than 2 million barrels – while paying $40 million in discriminatory barrel taxes, the highest amount in history.
When you include other aging spirits, the state's total inventory is almost 12 million barrels – a monumental milestone in the storied 200-year history of Kentucky's iconic Bourbon industry. The tax-assessed value of all barrels also hit an all-time high this year of $5.2 billion.
While barrel records are typically cause for celebration, the skyrocketing and punitive impact of aging barrel taxes is more a cause for concern, warned Eric Gregory, president of the non-profit Kentucky Distillers' Association, which released the figures today.
"We're thrilled that our homegrown and historic industry continues to flourish, but these numbers could have been much higher if Kentucky didn't have a major barrier to entry for new distilleries in the form of this barrel tax," Gregory said.
Kentucky remains the only place in the world that taxes aging barrels of spirits.
Since the beginning of the year, Kentucky has fallen to 12th in the country in the number of distilling operations, according to federal Tax & Trade Bureau (TTB) statistics. There are now more than 2,300 distilleries in all 50 states. Kentucky has fewer than 100.
In the last year, Kentucky ranked 29th in the country in the rate of adding new distilleries.
Kentucky's share of distilleries nationwide has plummeted from a high of 24% to now just 6%, and Kentucky's percentage of distilling jobs has dropped from 43% down to only 30%, even though the state crafts 95% of the world's Bourbon.
"At the height of our signature spirit's popularity, the proliferation of Bourbon distilleries outside of Kentucky should ring alarm bells for anyone who cares about this industry, its employees and its economic and tourism impact on the Commonwealth," Gregory said.
In the last five years alone, barrel taxes have more than doubled, soaring 102%. Kentucky distillers are paying nearly $40 million in barrel taxes this year – $7 million more than last year – an unjust levy because the fine art of aging and maturation of Bourbon is critical to the production process.
"We are only asking to be treated like every other manufacturer in Kentucky – and possibly the world – whose goods are not taxed during the production process," Gregory said. "Barrel taxes hamper growth, punish success and jeopardize the state's ability to attract new distillers in the birthplace of Bourbon."
The new production numbers are based on inventories reported as of Jan. 1, 2022, submitted to the Kentucky Department of Revenue for tax purposes and includes all distilling companies in Kentucky, the vast majority of which are KDA member distilleries.
Here are the specifics:
Total barrels of Bourbon: 11,406,135
Number of Bourbon barrels filled in 2021: 2,619,633
Total inventory including Bourbon and other spirits: 11,982,965
Assessed value on all barrels for tax purposes: $5,207,221,744
Kentucky Bourbon has seen tremendous growth since the turn of the century. Production skyrocketed 475% since 1999. The state's aging Bourbon inventory has more than tripled during that time, while the tax-assessed value of all barrels is now $5.2 billion, a staggering $780 million increase over 2021.
The Bluegrass State continues to benefit from this amber wave, which now pours $9 billion each year into the Kentucky economy, sustains more than 22,500 jobs with an annual payroll topping $1.2 billion a year, and draws millions of affluent tourists from around the world to the Kentucky Bourbon Trail® experiences.
A key export, distilling has the state's highest job spin-off factor among top manufacturers; buys at least 17 million bushels of corn and other grains every year, mostly from Kentucky farm families; and is currently investing more than $5.2 billion in new stills, warehouses, bottling lines, tourism experiences and more.
However, distilling also is the highest taxed among all large manufacturing industries in the Commonwealth, paying more than $285 million in local and state taxes every year. That's $180 million more in taxes each and every year now than distillers paid a decade ago.
Kentucky distillers also pay over $1.8 billion in federal alcohol taxes, by far the most among any state.
Of the 11 states ahead of Kentucky in the number of distilleries, all but one license state (Washington) has a significantly lower spirits tax rate than Kentucky, Gregory said. Kentucky's tax rate is $8.41 per bottle; California, which leads the nation in the number of distilleries, is $3.30.
"Not a coincidence," Gregory said.
"We have proven, time and time again, that Bourbon is a great investment for Kentucky," Gregory said. "But we cannot ignore the fact that more than 2,200 distilleries have made the business decision not to locate here, despite our rich traditions and ready-made infrastructure."
Gregory said the time is now – when the industry is healthy – to eliminate artificial barriers to growth like the barrel tax, and to continue modernizing Kentucky's archaic alcohol laws. He pointed to two recent studies that showed tequila has gained significant ground on American whiskey.
Just last week, data by Nielsen IQ shows that tequila sales have grown 70% since last year and agave spirits are now challenging whiskey and vodka in sales. IWSR Drinks Market Analysis said this year, for the first time ever, Americans will spend more money on mezcal and tequila than U.S.-made whiskey.
Gregory thanked the Kentucky General Assembly for creating a legislative task force that is exploring options to eliminate the barrel tax and minimize impacts on education and local communities. "We applaud this fair, open and objective process that is hearing from all stakeholders," he said.
"It's critical that distillers, community partners and elected officials work together to attract more distillers and investment to the Commonwealth, because there will come a day – hopefully not in our lifetimes – when Bourbon is not as popular as it is right now.
"It's time for solutions. We must protect our distilling dominance. The future is in our hands."
-30-
For more information or to schedule a Zoom interview, contact Eric Gregory at [email protected].
For more information or to schedule an interview, please contact KDA President Eric Gregory at [email protected].
The Kentucky Distillers' Association is a 501(c)(6) non-profit trade association that passionately unites, promotes, protects and elevates the Commonwealth's signature Bourbon and distilled spirits industry. The KDA maintains an open membership policy, champions a strong commitment to the responsible and moderate consumption of spirits, and fights to curb underage drinking and drunk driving. Learn more at www.kybourbon.com and www.kybourbontrail.com.
KENTUCKY BOURBON TRAIL®, KENTUCKY BOURBON TRAIL CRAFT TOUR®,, KENTUCKY BOURBON AFFAIR™, KBT®,, BOURBON TRAIL™, KENTUCKY BOURBON HALL OF FAME®,, ORDER OF THE WRIT®,, KENTUCKY BOURBON TALES®,, KENTUCKY BOURBON TRAIL WELCOME CENTER®,, URBAN BOURBON TRAIL® and THE PROOF IS HERE®are trademarks/service marks of the Kentucky Distillers' Association.
Please enjoy Bourbon like a true Kentuckian – Responsibly.
Enjoy Like a True Kentuckian: Responsibly